Official technical service
In Hifi Center we provide technical service in repairs and after-sales service to the main stores and distribution groups in Spain. We are specialists in sound and high precision equipment repair.
TECHNIC HIFI CENTER, S.L. was born in 1981 as a technical service of sound equipment thanks to the technological revolution that in the eighties began to be introduced in our homes by leaps and bounds.
The need to provide a high quality after-sales service of the multinationals in our country, makes Hifi Center stand out and consolidate as OFFICIAL TECHNICAL SERVICE of the big technological firms, which find in our company the solution to the demand of a technical service of guarantee.
We carry out any repair of high quality audio and sound equipment, two-valve equipment, amplifiers in general and tube amplifiers.
Hifi Center,
Official Barco Technical Service in Spain
Thanks to the work we do in Hifi Center, prestigious brands trust us.
Through this certificate, Barco ratifies Hifi Center as Technical Service in Spain for all its products.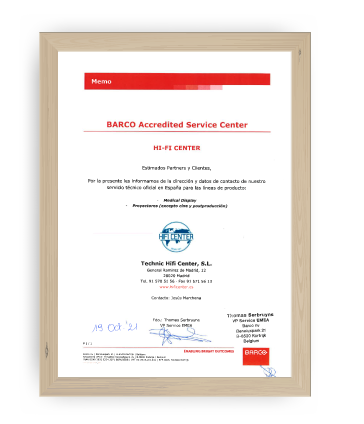 More than 40 years of experience
In Hifi Center we have a long history in the repair sector, this has led us to be professionals in the sector.
Start of activity
The first steps of Hifi Center began in 1981 with a technical service whose name was Radio Mar.
First brands as technical service
In January 1991 the first official service contract was signed with Pioneer, and in the same year between October and December with Kenwood and JVC respectively. Due to an increase in turnover, the company Technic Hifi Center was established in October 1992 and moved to its current facilities.
Leading brands rely on Hifi Center
At the end of 1992 Hifi Center signed a contract with Gaplasa, distributor for Spain of the brands Bose, Denon, Loewe and Yamaha. From this year onwards, great technological advances in consumer electronics such as the Laser Disc were produced. Hifi Center is consolidated as a pioneer as it was the only official service in Spain of the Pioneer brand, which had a 95% market share.
New objectives
In 1994 Hifi Center starts with JVC digital cameras, with an approximate volume of 10,000 cameras repaired per year.
Consolidation as a reference technical service in Spain
From 1998 Hifi Center signs contract of technical representation with the rest of brands of HIFI and Car Audio, all the previously described brands continue trusting us being at the momento, service of elite of all of them.
Samsung relies on Hifi Center
In March 2010 Hifi Center incorporates Samsung, one of the world's strongest manufacturers in electronics, to its brands, providing service to its TV, Audio and Computer divisions.
Hifi Center collaborates with the Barco brand
In March 2013 Hifi Center signed a collaboration contract with the company Barco for its Healthcare and projection divisions, being the only official service in Spain, entering the world of Electromedicine and professional projection for one of the most important companies in the world.
Samsung Medical certified service technician
In May 2016 Hifi Center extends its collaboration with Samsung to its ultrasound division, being the first certified technical service in Spain for this brand and these products.
New horizons
Hifi Center is currently in the process of approval by the Nuclear Safety Council for maintenance, installation and repair of Ionizing Radiology (X-Ray and Scanner). We remain open to any technological advances that may occur since we receive training from our brands in Spain, Belgium, Norway and Korea.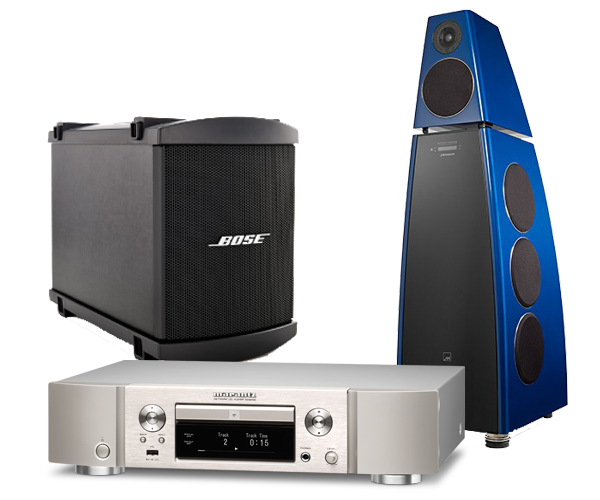 Official technical service
of leading brands
The need to provide a high quality after-sales service of multinationals in our country, makes Hifi Center stand out as OFFICIAL TECHNICAL SERVICE of major technology firms.
For over 40 years, we have been passionate about achieving the best results for our clients.
We apply quality controls, which makes us a reference for leading brands in our specialty as technical service of sound equipment.